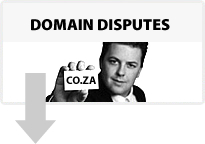 ADJUDICATORS
The SAIIPL is committed to broadening its Panel of Adjudicators to non-members of the SAIIPL.
Foreign Adjudicators: The SAIIPL will not in principle prohibit suitably qualified foreigners from being part of its Panel of Adjudicators, but preference will however be given to South African citizens. The SAIIPL is committed to promoting domain name ADR skills within South Africa and will as a result ensure that its Panel of Adjudicators remains representative of South African woman, disabled and historically disadvantaged individuals.
Commitment to Adjudicator Freedom: The SAIIPL is committed to the freedom of its members to serve as Adjudicators on the Panels of other Providers. The SAIIPL will not discourage or prohibit its members or Adjudicators from taking up positions, or serving on the Adjudication Panels of other Providers.
BEE: Although the initial Panel of Adjudicators (the Panel) will include members from previously disadvantaged communities, the SAIIPL remains committed to an active and responsible program of procuring further skilled black candidates to its Panel. The institute will not prescribe absolute criteria for qualification as an Adjudicator for its Panel, but will rather assess each application on its own merits. Applicants should however have a good understanding of the intellectual property issues involved in domain name disputes and be familiar with the Regulations. In broadening the representation of various interest groups on its Panel, the SAIIPL appreciates that first-hand practical training and guidance will be a pre-requisite.
Sort this Adjudicator list by:

name | senior adjudicators | adjudicators | trainee adjudicators | by firm

found: 15 Adjudicators

Andrew Papadopoulos

KISCH-IP

QUALIFICATIONSB Comm.(Law); LL.B
Attorney of the Supreme Court of South Africa
Fellow of the Institute of Intellectual Property of South Africa


MEMBERSHIP & AFFILIATIONSIntellectual Property of South Africa

EXPERIENCE10 Years Experience in Intellectual Property Law and, in particular, law relating to trade marks, copyright, domain names, advertising, licensing, company name objections

SENIOR ADJUDICATOR

CHRISTIAAN J STEYN

STEYN IP

QUALIFICATIONSBaccalaureus Legum - LLB (NWU);
Masters in IP Law - LLM (UNISA, currently registered)

MEMBERSHIP & AFFILIATIONSSouth African Institute of Intellectual Property Law (SAIIPL);
SA Association of IP- and IT Law Teachers and Researchers (AIPLITL);
International Trademark Association (INTA);
ICANN Intellectual Property Constituency (IPC);
SA Legal Practice Council.

EXPERIENCE15 years experience in IP Law, specifically Trade Marks, Copyright and Domain Disputes; including prosecution, litigation, portfolio administration, legislative drafting and lecturing.

SENIOR ADJUDICATOR

Deon Bouwer

Bouwers Inc.

QUALIFICATIONSB.Juris; LLB; LLM; Diploma in Labour Law


MEMBERSHIP & AFFILIATIONSSAIIPL, INTA


EXPERIENCE20 years of which 17 years are in intellectual property


SENIOR ADJUDICATOR

Derek Momberg

KISCH-IP

QUALIFICATIONSBA LLB - Attorney & Notary Public


MEMBERSHIP & AFFILIATIONSSAIIPL, INTA


EXPERIENCE28 years IP experience. In charge of the conduct of a wide variety of Trade Mark, Copyright, Trade Secret and Licensing matters with over 30 reported judgements.

SENIOR ADJUDICATOR

Gerard Du Plessis

Adams & Adams

QUALIFICATIONS"BLC, LLB: Admitted attorney (1995), Qualified Trade Mark Practitioner (1998),
"


MEMBERSHIP & AFFILIATIONS"SAIIPL, Pretoria Attorneys' Association, CLASA, Law Society of the Northern Provinces
"


EXPERIENCE18 years: Trade Marks, Copyright, Designs, Unlawful Competition, Domain names, Anti-counterfeiting, Litigation in the above areas, UDRP Training with WIPO (2003)


SENIOR ADJUDICATOR

Janusz Luterek

Hahn & Hahn Inc

QUALIFICATIONSB.Eng (1989); B.Proc (1995), Attorney at Law (1997), Patent Attorney (2000), Pr.Eng. (1993)


MEMBERSHIP & AFFILIATIONSSAIIPL, AIPPI (Council member), ECSA (Pr.Eng), FICPI, MAIChE, SAAFoST (Custodian Member), and LES


EXPERIENCE16 Years in Intellectual Property Law specialising in Copyright, Trademark and Patent matters, as well as the ECT Act, 7 years in Engineering. Director of Hahn & Hahn Inc, past Director and Consultant to Routledge Modise.


SENIOR ADJUDICATOR

Jeremy Speres

Spoor & Fisher

QUALIFICATIONSMaster of Law (LLM) in Intellectual Property Law and Technology Law
Bachelor of Laws (LLB)
Bachelors of Arts (BA), majoring in Media and Writing



MEMBERSHIP & AFFILIATIONSWIPO Domain Name Dispute Panelist

SAIIPL Trade Mark Practitioner

EXPERIENCE11 years in contentious, commercial and prosecution aspects of IP and IT law.

SENIOR ADJUDICATOR

Kelly Thompson

Adams & Adams

QUALIFICATIONSBA LLB, Admitted attorney (2001), Trade Mark Practitioner (2001)


MEMBERSHIP & AFFILIATIONSLaw Society of the Northern Provinces, BWA, SAIIPL, Global Advertising Lawyers Alliance, member of the SAIIPL ADR Committee, Convenor of the SAIIPL Copyright Law Committee


EXPERIENCE19 years: Trade mark and passing-off litigation, Copyright litigation, Domain name litigation, IP litigation in Africa, Advertising law, Company name objections, domain name objections.

SENIOR ADJUDICATOR

Mariette du Plessis

Adams & Adams

QUALIFICATIONSBLC, LLB, Admitted attorney (1989), Qualified Trade Mark Practitioner (1991)

MEMBERSHIP & AFFILIATIONSPresident of SAIIPL, Director of INTA(International Trade Mark Association) Board, Law Society of the Northern Provinces, ISOC (SA Chapter), BWA Association of Pretoria Attorneys, CLASA, Served on Standing Advisory Committee of Minister of Trade& Industry

EXPERIENCE18 years: All aspects of trade mark litigation, including company and close corporation name objections, passing off and trade mark infringement, domain name registrations and objections and copyright


SENIOR ADJUDICATOR

Mike du Toit

Mike du Toit Attorneys

QUALIFICATIONSBCOM LLB Trade Mark Practitioner

MEMBERSHIP & AFFILIATIONSSAIIPL,member of INTA, member of LES

EXPERIENCE23 years of which 21 years are in intellectual property.

SENIOR ADJUDICATOR

Owen Salmon

Advocate - Maisels Group. (www.maiselsgroup.com)

QUALIFICATIONSBA LLB LLM
Trade Mark Practitioner
Advocate of High Court


MEMBERSHIP & AFFILIATIONSFellow of SAIIPL;
Member of Johannesburg Bar;
Writers Guild of SA;
PAT-GOT.

EXPERIENCE30 years experience litigating in intellectual property matters.

SENIOR ADJUDICATOR

Tana Pistorius

Department of Mercantile Law, UNISA

QUALIFICATIONSBA LLB LLM LLD
Admitted attorney and notary (1989)

MEMBERSHIP & AFFILIATIONSINATA: ARTIPS: SAIPL; Association of Law Teachers of South Africa; International Association of IT Lawyers (IAITL)


EXPERIENCE2 years experience in trade mark practice; 15 years experience in teaching IP at undergraduate and post graduate level, including LLM courses on the use of trade marks on the Internet, domain names and ADR; Member of research team that drafted the ECT Act

SENIOR ADJUDICATOR

Vanessa Ferguson

Von Seidels

QUALIFICATIONSB.Juris LL.B


MEMBERSHIP & AFFILIATIONSSAIIPL; INTA


EXPERIENCEAdmitted as an attorney in June 1999, Over 25 years experience in intellectual property matters – trade mark prosecution and litigation, anti-counterfeiting, copyright and domain name disputes


SENIOR ADJUDICATOR

Vanessa Lawrance

HAHN & HAHN

QUALIFICATIONSB.Comm, LLB (1997) Admitted attorney (2000), Qualified Trade Mark Practitioner (2003), Notary (2006)



MEMBERSHIP & AFFILIATIONSSAIIPL, Law Society of the Northern Provinces,

EXPERIENCE12 years intellectual property experience, particularly litigious matters involving Trade Marks, Copyright, Unlawful Competition, Domain name disputes and Anti-counterfeiting. Prosecution of Trade Marks. Commercial Law



SENIOR ADJUDICATOR

Victor Williams

Hahn & Hahn Inc

QUALIFICATIONSB.Sc (Eng); B.Proc


MEMBERSHIP & AFFILIATIONSPatgot


EXPERIENCE31 years


SENIOR ADJUDICATOR